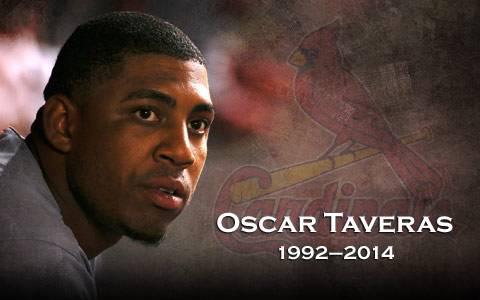 By Roger Hoover / Jacksonville Suns
A positive weekend of baseball news was largely overshadowed by Sunday night's stunning story that St. Louis Cardinals top prospect and promising major league outfielder Oscar Taveras and his girlfriend Edilia Arvelo were in a car accident in the Dominican Republic.
Taveras, who turned 22 just last August, played in 80 games this season for the Cardinals and also hit a dramatic game-tying home run in Game Five of the 2014 National League Championship Series against the Giants.
While Taveras played in Double-A in the Texas League, everyone in Minor League Baseball knew of his supreme talent as he consistently was among the top prospects in the game according to various media outlets. It's a tragedy any time someone this young dies in a horrific tragedy, and baseball will dearly miss Taveras.
2011-2014 Jacksonville Suns manager Andy Barkett is working in the Dominican Republic this winter as the manager of the Águilas Cibaeñas baseball club, where Tavaeras played before. Shown below is Aguilas players mourning the passing of the young Dominican star.
The news of his death came during Game Five of the World Series, where the Giants beat the Royals 5-0 behind yet another brilliant postseason start by Madison Bumgarner.
He threw the first complete game shutout in a World Series game since Josh Beckett did so for the Marlins in 2003 against the Yankees, and at the age of 25 he has a 0.29 World Series ERA. Already legendary.
The Giants now lead the series 3-2, setting up a grand stage for Game Six on Tuesday night at Kauffman Stadium.
The Marlins Man made another appearance at the World Series games in San Francisco, even running into Matt Leland who was on our staff in 2013! In my last two years in Jacksonville I've enjoyed working with Matt and another Giants fan in Jason Patterson, happy these guys are enjoying watching the Giants chase another championship!
In Marlins news, Giancarlo Stanton was honored as the National League Hank Aaron Award winner, given to the most outstanding offensive performance in the game this season. Mike Trout won the American League Hank Aaron Award, and Stanton received the trophy at the World Series in San Francisco over the weekend.
In additional awards news, Stanton along with fellow outfielder Christian Yelich and shortstop Adeiny Hechavarria were announced as finalists for Gold Glove awards. The 2014 Gold Glove winners will be announced on Nov. 4 at 7 p.m. ET live on ESPN2.
Also there was surprising news out of Tampa Bay on Friday when Rays manager Joe Maddon became a free agent, as he opted out of his deal with the ball club. Speculation is running rampant on where Maddon may end up, and if I had a guess it would be with the Chicago Cubs. I believe he would fit in well with Theo Epstein's vision for the Cubs, and would work well with the young talent we've seen come through the Southern League with Tennessee and now on their way to Chicago.
As for me? I had a busy weekend of football, first filling in for a radio broadcast of a Alabama 7A high school football game in Birmingham on Friday, then covered #4 Alabama's 34-20 win over Tennessee in Knoxville for AP Broadcasting on Saturday night. Lane Kiffin's Tennessee return was largely uneventful, although I walked in behind him to the Alabama tunnel and there were some water bottles and plenty of curse words screamed to him. All in all I thought the Alabama offensive coordinator handled himself well, and glad this narrative of him coming back to Knoxville won't pop up again.
Here are today's #MarlinsMonday links, check back Wednesday for a report from the Arizona Fall League!
St. Louis Post-Dispatch: Cards' Taveras killed in car accident
Marlins.com: Hechavarria, Stanton, Yelich first-time Gold Glove finalists
Marlins.com: Giancarlo Stanton the first Miami Marlins player to win Hank Aaron Award
Palm Beach Post: Marlins' Stanton expects to have normal offseason
CSN Chicago: Decision time coming for the Cubs and Joe Maddon
Ballpark Digest: The Week That Was: October 26
Sports on Earth: Leitch: Taveras' Death Breaks Your HeartUSA Today: MadBum Redefining 'Mr. October'
ESPN Boston: Schilling Not Hiding Behind Mistakes